Roots - Sewing your heritage
5:44 PM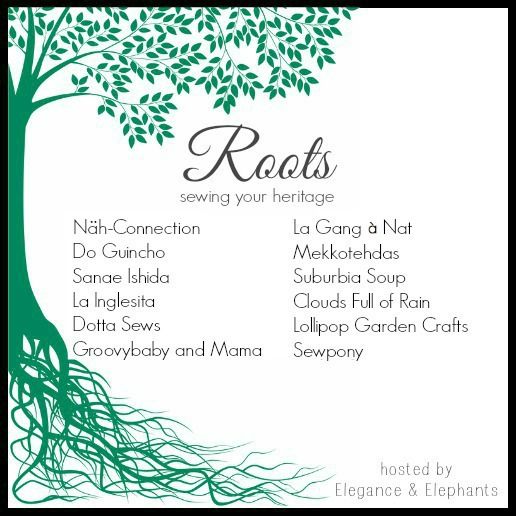 Over the last few months I've realized how amazing the sewing blog community is. I've started blogging only some months ago, but Ive already met a lot of talented women who inspire me every day, and Heidi from Elegance & Elephants is one of them (have you seen her patterns?). I was so happy when I got her invitation to join her new series, Roots.
It celebrates sewing for children around the world, and I am one of the twelve blogger who will create something inspired by their own country. I can't wait to start sewing, and I've already started drafting a dress inspired by the city I live in (do you want a hint? Water, bridges, ferry boats...no, it's not Amsterdam!).
From January 13th to 31st you can join the series and upload your outfit to the
Elegance & Elephants Flickr Group
! And, as if it wasn't enough, on January the 3rd Heidi will reveal what prizes will be up for grabs (yes, prizes!!).
Stay tuned!
Negli ultimi mesi ho avuto la possibilità di constatare quanto sia meraviglioso il mondo delle blogger appassionate di cucito. Ho aperto il mio blog solo qualche mese fa, ma ho incontrato già tantissime donne piene di talento, per me fonte di ispirazione ogni giorno, e Heidi di Elegance & Elephants è una di loro (avete visto i suoi cartamodelli)? Sono stata così felice di ricevere il suo invito a partecipare alla sua nuova serie Roots. E' dedicata al cucito per i bambini da tutto il mondo, e io sono una delle dodici blogger invitate a cucire qualcosa prendendo ispirazione dal proprio paese! Non vedo l'ora di iniziare a cucire, ho già creato una bozza per un vestito ispirato dalla città in cui vivo (volete un suggerimento? Acqua, ponti, vaporetti....no, non è Amsterdam!).
Dal 13 al 31 gennaio tutte potranno partecipare a questa serie postando le foto delle proprie creazioni sul gruppo Flickr di Elegance & Elephants! E, come se non bastasse, il 3 gennaio Heidi rivelerà quali premi saranno messi in palio (sì, premi!!).
Non perdetevi questa serie!